We just finished shooting the music video for "Il cappellaio matto" by artist Omar Bonaventura, produced by Armonica Film with director Paolo Mantero and interpreted by the wonderful Alice Brivio. Attracted by the mysterious charm of his psychologist, the protagonist (Omar) goes through a surreal and visionary travel, which will lead his mind to come together with all major famale icons from the 50s to nowadays.
We started with the famous scene of "The Seven Year Itch" (1955), directed by Billy Wilder, where Marilyn Monroe's skirt is accidentally lifted by the moving air after the passing of the underground.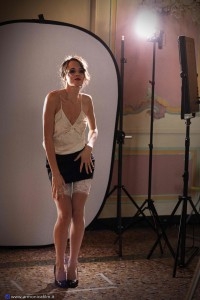 Visions then go into the 60s with "Lolita" (1962) by Stanley Kubrick, where teenager Dolores Haze, aka Lolita, charms the candid professor Humbert Humbert till he loses his mind.
In this "seductive revival" we could not ignore the "9 1/2 Weeks"striptease, which made Kim Basinger a sexy icon of male imaginary in the 80s. This film, directed by Adrian Lyne, also starred Mickey Rourke and, thanks to its veiled erotism, became a cult of those years.
Here come the 90s and with them the woman who, sitting on a chair, crossed her legs to remain in history forever and ever. It's 1992 and Sharon Stone is the protagonist, with Michael Douglas, of "Basic Instinct" by Paul Verhoeven. This film was one of the highest grosses in theaters that decade, bringing "strong" cinema to television.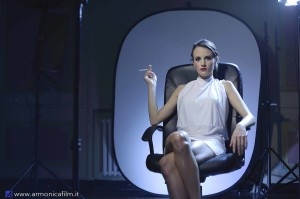 So here we are at the grand finale! Actually, we are still in 1999 but only a few movies underline the emptiness of society in the new millennium as well as this one. We are talking about "American Beauty", directed by Sam Mendes, winner of  5 Oscars in 2000. The movie starred a spiteful and sensual Mena Suvari, who fills the fishiest fantasies of a middle-age man interpreted by Kevin Spacey, completely naked and only covered in pink petals.
In only one day of shooting, we tried to be somehow worth these great titles. These little seduction flashes have the goal to pay tribute to the ability cinema has to charm human imaginary.
A special thanks goes, as always, to the Genova Film Commission and to the wonderful location in Villa Bombrini. Of course a big shout out and thank you to Alice, Omar and his staff, together with all the Armonica Film Team.
https://www.armonicafilm.it/wp-content/uploads/2014/01/IMG_1331modifica1.jpg
1441
2560
Roberta Ferrari
https://www.armonicafilm.it/wp-content/uploads/2020/04/piccolo_generico-1.png
Roberta Ferrari
2017-07-25 15:56:18
2020-04-16 11:03:48
Music Video – "Il Cappellaio matto" by Omar Bonaventura, with Alice Brivio